Description
In November and December 2022, BBC Radio 4 aired 'The Witch Farm', a paranormal story based on a real event.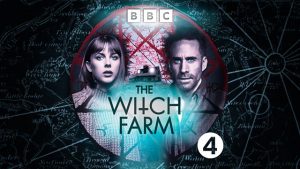 Synopsis.
'It's 1989, rural Wales, a lonely old farmhouse in the shadow of the imposing Brecon Beacons mountains. Young, pregnant Liz Rich and her artist husband Bill rent an isolated farmhouse in the Welsh countryside, with Bill's teenage son Laurence. They're hoping for a fresh start, but the house holds dark secrets, and the family's new life becomes a terrifying ordeal that will change them forever.
The Witch Farm reinvestigates a real-life haunting – a paranormal cold case that has been unsolved for nearly 30 years – until now. Set in the beautiful, remote Welsh countryside, this terrifying true story is told through a thrilling blend of drama and documentary.'
Full series: https://www.bbc.co.uk/programmes/p0d508t8
In the final episode we learn that Bill Rich had once known Alex and Maxine Sanders. Alex invited Bill to be initiated and he accepted, but became frightened during the rite and pulled out. In the same episode, Maxine Sanders gives a small interview in which she recounts Bill's initiation from her perspective.